For the past several weeks I have been trying out two new Motorola Finiti  Bluetooth headset. This is one of their new line of  Elite headsets  announced back in October. Me being the ever frugal (ie cheap) person I am, have always gone with whatever is the cheapest name brand headset I could find. I was never overly impressed with the quality of the headsets but figured it's a Bluetooth headset to talk on, how much better could it be. Well now I know and I'm never looking back.
The Finiti weighs just 12 grams and is very comfortable in the ear. This is a headset that can be worn for hours at a time with minimal strain to your ears, The phone features a over the ear loop to securely hold the phone to the side of your head. There is also a molded ear canal piece that gently fits into your ear to help block outside noise from interfering with your conversation. The ear canal piece is a combination of hard plastic and soft flexible clear plastic. There is also a small cushion near the end of the ear canal piece the gently cushion and secure the headset into your ear. There is no pressure to any parts of the inner ear and after awhile I noticed that I could barely tell I was wearing any headset at all.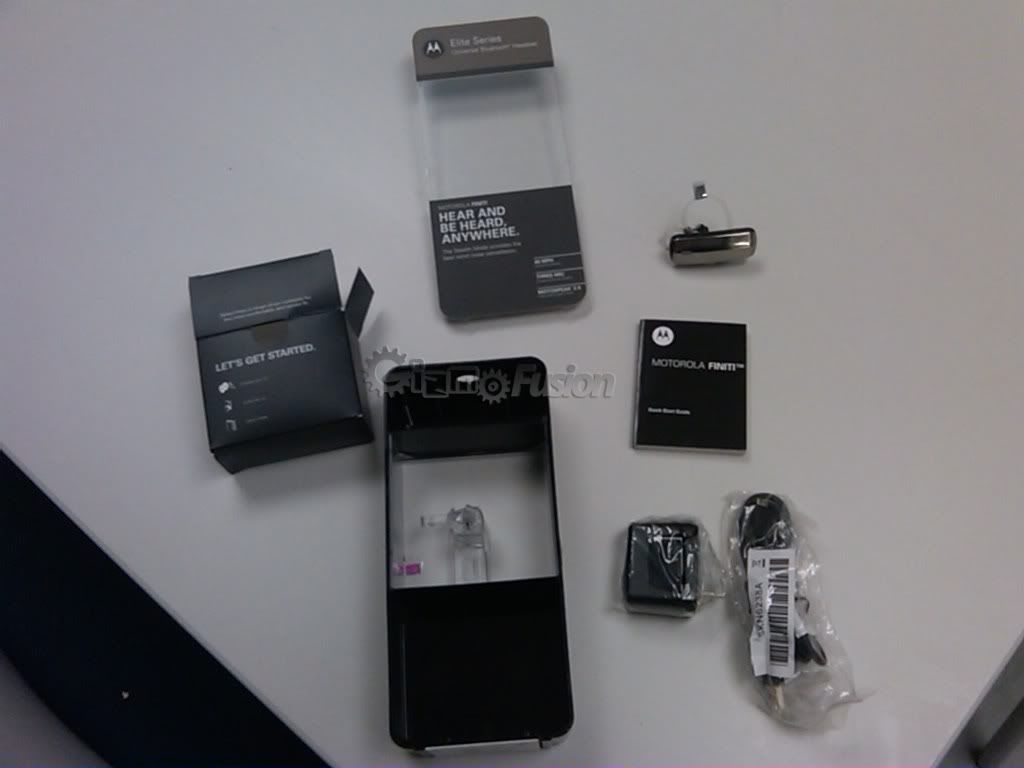 In the package you get the Motorola Finiti, wall plug, usb charging cable, and user guide. The unit is packaged in a nice sturdy plastic box as can be seen in the picture at the top. After removing the Finiti from the box and charging it sufficiently I turned the device on and a pleasant female voice stated to pair the headset to my device and that I may be required to enter the code of 0000 to pair the device.  Once the Finiti is paired with your device there is a announcement  that your are connected to " name of your device". Pairing couldn't have been easier and I was all up and ready to go in about 30 seconds.
The headset itself has  4 buttons. There is the on/off switch on the bottom of the headset and  volume up/down buttons on the top. On the top near the front of the headset there is another button for Stealth Mode. The volume buttons  and Stealth Mode buttons are molded into soft plastic on the top so as to blend in to create a seamless piece. There is also a status light on the top that keeps you up to date with how your Finiti head set is working.
The Motorola Finiti has  a 3 microphone system that delivers superior call quality with little to any static ever present. The Finiti uses what Motorola calls Crystaltalk™ technology for superior sound quality and clarity. Crystaltalk™ technology uses a dual microphone set up to identify and remove nearly all background noise during your conversations. Motorola  also uses true bone conduction technology ( Stealth Mode) that eliminates background noise and wind up to 40mph. While I can't say I ever stuck my head out of the car window to test this  I can say that even in any wind condition I found around the Pittsburgh area there was never a point where anyone I talked to complained of any background noise.Music playing is not the forte of this device. I found the music to be hard to hear most times and also very tinny.
Motorola has incorporated its MotoSpeak application to work seamlessly with their line of Bluetooth headsets. When A call comes in your headset tells you what phone is ringing and who is calling. All you have to do is say ignore or accept or reject or answer the phone call.If you have a Android device with OS 2.2 or newer  the Finiti will read to you your text messages. Then you can dictate your text message and MotoSpeak will convert your speech to text and send your text message, all without taking your hands off whatever you are doing.
The Motorola Finiti is one of the nicest head sets I have used in some time. Priced at around $100 it is well worth it's money. Only thing I can warn you on is make sure if you listen to  music you have a separate head set specifically for music as this is the only place I found the Motorola Finiti to falter. MotoSpeak apps are available for Android,Blackberry, and iPhone. Each version of MotoSpeak has a different amount of options that you can use depending on what version of software your phone is running. Check out the links below for all the information from Motorola on the Finiti Bluetooth headset.
SOURCE: MOTOROLA
FOLLOW ME ON TWITTER: @GIZMOBOAKS
BUY THE MOTOROLA FINITI FROM: MOTOROLA